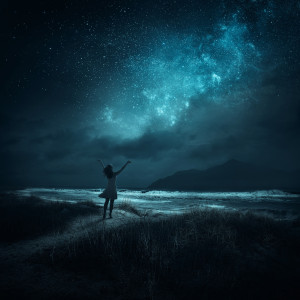 Of Water
Mara's life has imploded and while struggling to stay afloat in a sea of depression, she wades out into the ocean. There, embraced by the water, surrounded by stars and aided by a man who is not just a man, she rediscovers her will to live.
Buy Now
Word Count: 2,278
Kink Level: Vanilla
Prompter: Anna
Under Glass Theme: She's on the bottom
Excerpt:
When his lips left hers it was to trail a molten path over her throat, across her collar bone. His fingers, his impossibly warm fingers, stroked her thighs until they opened, then stroked her deeper. His head dipped down, licking a path to her nipple. He rolled it between his lips, sending a dart of golden heat straight to her belly. She sucked in her breath staring, unseeing, up at the night sky. She hadn't felt like this since Jef–
His thumb pressed down on the hood of her clit at the same time his teeth trapped her nipple between them and tugged. A tsunami of heat filled her, pushing all conscious thought from her mind. She cried out, and arched her back, simultaneously pressing down hard against his hand and up against his mouth. She tangled her fingers in his long, long hair, pulling him tighter against her breast and bucking her lips against his hand.
He nibbled and sucked, pinched and rubbed until, breathless and quivering, she maneuvered him between her thighs.
Poised over her, pressing against her, he gazed down at her. His black eyes were fathomless, his expression inscrutable. She knew, in that moment, when they and the whole world around them held their breath, that he wasn't human, wasn't just human, and she didn't care.
Additional Excerpt: Available here