The following are the details about my Erotica Under Glass session with the fan-suggested theme of "She's on the Bottom"
Date began: September 1, 2015
Stopped accepting prompts: October 1, 2015
Date completed: TBD
Prompts accepted:
Fairies and ponyplay
Pegging (small woman, larger man)
Hours written:
September – 16
October – 5
November – 20
Resulting Stories:

The Switch (8,000 words approx.)
The Switch is about envy, light kink and finding yourself sexually. It's also about letting your husband sleep with your twin 😉 Excerpt here.
Prompt & Prompter: This story was original entitled 'Twin Magic' and was begun as part of my panties-themed Under Glass event last year. It later went by the title 'The Coolest Wife Ever' before I settled on its final title with the help of my readers. It had no prompt beyond that.
Sponsorship not yet available.
---

Masks ( Undetermined)
Maggie the clown has a summer fling with a Texas strong man named Ben when they are both working for the same traveling carnival. After some time, life and death intervene and they are separated for a time before getting a second chance. They have only a week to figure out if they have a future together, or if their time together was just a passing thing.
Prompt & Prompter: Story based on this picture prompt from Alexa Piper
Sponsorship not yet available.
This story has evolved into something very different from how it began and has been moved to the 'Paranormal Circus' erotica under glass theme.
---

Running on Empty (9,650 words)
Five years ago as they were breaking up Olivia screamed, "Not even if you were the last men in the world!" at Jacob. Now, in a post-plague world, he and his partner Liam might very well be the last men in the world who can help her. Mf / Mm. Excerpt here.
Prompt & Prompter: No prompt.
Get It FREE Now:

This story is meant to be free. It may take some time for Amazon to change the price to reflect that, though, so if the Amazon link wants you to pay for the book I suggest trying one of the other distributors.
---

Moonlight and Magic (6,700 words)
Apple Blossom the fairy is bored, but when a human wanders into her woods she finds just the thing to entertain herself for an evening.
Prompts & Prompters: This story comes from two prompts. The first was 'Pony play and fairies' and the second was 'Pegging, with a preference that the woman be smaller than the man'. The prompts came from TJ and Cary.
Get it FREE Now:

---

Of Water ( 2,278 words)
Mara has hit rock bottom. She's alone, lonely and isn't sure life is worth living until one magical encounter helps her realise she's not done with her life yet. Excerpt here.
Prompt & Prompter: Provided this picture prompt by Anna Kyle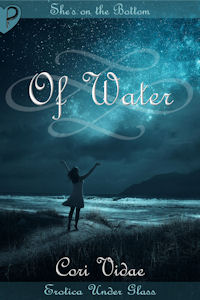 Buy Now: