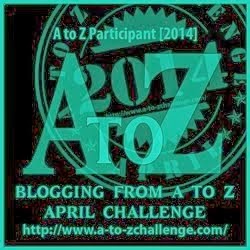 It's coming!
April is almost here and I've just settled on a theme for my Blogging from A to Z Challenge. Finally.
*cough* years ago I wrote a whole bunch of sexy short stories using the pen name Steffie Sherwood. Most (if not all) of those stories were written in the 1st person and one of them was released as a well-received ebook. Lately, though, Steffie's stories are mostly gathering pixelated dust on my hard drive (aside from the one I included in Merry XXXmas).
So my plan for the Blogging from A to Z Challenge is to find excerpts from Steffie's stories that will fit with each letter of the alphabet and share them here.
Steffie wasn't an especially kinky girl (though she makes up for that with enthusiasm) so I can't promise the excerpts will be super kinktastic, but I'll see what I can do!
ETA: Uh… change of plans. When I started looking through Steffie's stories for excerpts I realized why they are collecting dust — they need to be revised before I can share them here. My skills have improved immensely in the decade since I wrote those, I am not going to post them up here as is.
Sadly, I don't really have time right now to give them the attention they deserve, which led me to this decision — I'm skipping the Blogging from A to Z Challenge this year. Instead I'm giving myself a different challenge — 500 words a day for every weekday in April. Hopefully this will help me finish up Twin Magic and give you another book to read instead of just some blog posts.
I'll keep you updated 🙂