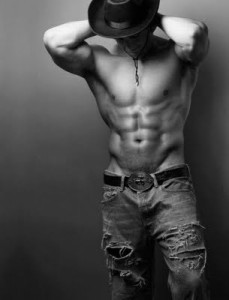 Yeehaw! I'm editing a brand new anthology. How about you help me make it completely amazing? 🙂
Rough Edges
Work hard, play hard, love hard.
Nothing is sexier than a man who knows what he wants and has the confidence go after it. I'm looking for hot romances featuring those kinds of rough-around-the-edges alpha males in the (North) American West. I want stories about the kind of men who ride horses during the day and their partners at night, who speak few words but mean every one of them and who would never break their own personal code of honor. I'm talking about cowboys.
There is plenty of room in this anthology for BDSM or risk-aware consensual kink (leather and spurs and ropes, oh my!) but I'm also completely open to vanilla romance as well.
I'll be looking for stories which explore the usual Western themes of redemption, self-improvement and second chances set in beautifully brutal landscapes, but it's the romantic, emotional core of the story which is most important. I want to feel the characters fall in love, to experience the hot nights beneath starry skies, hear the campfires crackle and smell the leather. Give me a story about the young ranch hand falling in love with a cattle rustler, or a rodeo cowboy who breaks broncs during the day and hearts at night (that is, until someone lassos his!). Surprise me, engage me, make it impossible for me to say no.
Western setting (historical, contemporary, futuristic, sci-fi, fantasy, paranormal, steampunk)
3,000 – 20,000 words
Reprints accepted but not preferred (when submitting a reprint include information about when and where it was previously published in your submission email)
Romance with HEA or HFN
Open to all pairings (m/f, m/m, f/f, m/m/f, etc.)
Safe, sane, and consensual kink is okay but not required
PAYMENT:
Pro-rata share of 40% net profit on anthology sales distributed among the contributing authors based on story word-count paid semi-annually. Plus a trade paperback copy of the anthology. No advance.
TO SUBMIT:
Send the complete story as an attachment to corividae@gmail.com using the subject line "Rough Edges / Name of your story."
OPEN SUBMISSIONS:
February 12 – July 31, 2015.
ANTHOLOGIST:
Cori Vidae.
Annnnnd…
Before it becomes an FAQ, despite the focus on cowboys in these guidelines I'm open to main characters of any gender who have rough edges 🙂