Or…How to Succeed at Running a Kickstarter While Busting Your Ass
Please welcome to the blog today Anna Yeatts: writer, editor, and soon-to-be publisher of super fun smut that I'm sure you're going to want to know more about. She's here to talk about a project that bloomed from nothing into something in a matter of days, and I'm sure you're eager to hear her story. So I turn it over to… Anna!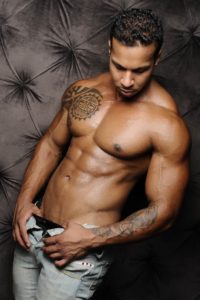 (I threw this handsome fellow in to get your attention. Why? Because there's a prize at the end of this post. But you have to read to get there. Now, carry on.)
I've always imagined erotica publishers in one of two ways:
A paunchy, middle-aged guy in his mom's basement smoking unfiltered cigarettes, somehow managing to leer while he bangs away at his manual typewriter, imagining all the filthy things he wishes he was doing to the heroine.
A glamorous woman in a sequined cocktail gown, lounging on a piano, waves an opera-gloved hand at a horde of cabana boys who rush off to wrestle down well-muscled, oiled, sweat-drenched love interests to act out every conceivable fantasy for "research".
The truth is somewhere in the middle (though I am wearing my ninth grade winter formal dress for the writing of this post. The princess poofed sleeves are cutting off the circulation to my lower arms, but who needs feeling in their fingers when there's art to consider?).
Yes, along with Chris Phillips and Damon Shaw, I'm publishing NASTY: Fetish Fights Back – a collection of fetish erotica so hot it'll scorch your knickers. I emailed back and forth with Selena Kitt, author of "Meet the Baumgartners," and I managed not to hyperventilate from my personal fangirl level. Yes, I spend an amazing amount of time tracking down royalty free photos of fetish-loving, beautiful, naked people.
(Not me. Not the prize either. Just sayin'.)
And yes, I am a middle-aged, single mother of two children with a college degree in Biology I haven't used in fifteen years. I'm qualified to dissect frogs and possibly earthworms. Just don't tell my vegan friends, and I'll need someone to pick up my first-grader from the bus stop while I'm cleaning dissecting pans at the high school. My current skillset is: chopping things with knives, wiping up when my geriatric dogs piddle on the floor, eyeliner so sharp it'll cut a bitch, and collecting vibrators.
So How Exactly Did I Become An Erotica Publisher?
I know how to publish words–lots and lots of words.
When your ex's attorney insists that being a stay-at-home mom is not actually a job (and your own attorney has to grab you by the seat of your pants and haul you back to your side of the table to keep you from committing a felony), it's amazing how motivational life becomes. This is the time to dig deep into your skillset (since knife-throwing isn't covered by insurance) and find the one thing you've always wanted to do, but haven't done.
Why the hell not?
This is why:
Lightning bolts from heaven aimed at your head.
Masturbation will make you go blind. And helping all those poor souls go blind would be the opposite of all things good in this blighted world.
What if the handcuff keys got lost, and you were trapped in the bed ALL DAY? (Don't laugh. You know your mother has thought this.)
You might get pregnant. Everyone knows virtual sperm can live forever on keyboards.
Nice girls don't publish erotica.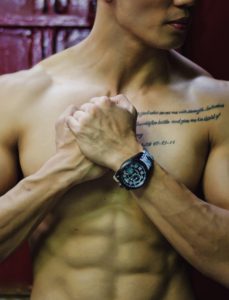 I MEAN, WHO WANTS TO LOOK AT ABS LIKE THIS EVERY DAY? (Just checking to see if you were still with me. Prize is at the end for those of you scrolling from manflesh to manflesh.)
Did I mention shame?
What Finally Kicked Me Over the Edge & Onto Kickstarter?
"Such a nasty woman." – Donald Trump
I can't count how many times I've been called a derogatory word: slut, whore, ho, jezebel, hooker, scarlet woman, tramp, pro, working girl, trouble, bad influence, bitch, provocative, homewrecker, liar, hussy, tart.
Nasty.
Each one lands like a verbal slap in the face. It doesn't matter that they're groundless, false accusations meant to keep me "in my place." Words have power. We're readers, writers, publishers, fans. We know this. We feel it in our bones. The power of words pull us back to the page time and again.
I Made The Decision To Take My Power Back
Chris Phillips, the Managing Editor at Flash Fiction Online and my longtime writing partner, showed me an article about strange fetishes. For years, we've talked about opening a second magazine–one that pushed the boundaries more than Flash Fiction Online's model allowed. In that moment, with a friend I trusted both as a person and an industry professional, NASTY: Fetish Fights Back was born.
Chris's story of how he came to the NASTY project is one you should read.
(This is Chris. He'd be embarrassed if he knew I snuck this picture when he was working shirtless in the NASTY office. So shhhh….. Don't tell him. And pssssst. Keep going for that prize. Sadly, it's not the Chris.)
What Happened Next…
This is where truth gets crazier than fiction.
Word about NASTY began trickling into the speculative fiction writing community. And, suddenly, writers with BIG AWARDS decided to write for NASTY and then writers with MORE AWARDS  decided it would be fun to write for NASTY too. And so on and so on.
You're getting the picture?
Cut to Selena Kitt and I emailing back and forth like the swell gal pals we were always destined to be (Please don't have me arrested as a stalker! I only squeed so loudly I scared the cat).
Here's the author list for NASTY.
And here's another hot guy.
I'm trying to keep you happy here. You're ALMOST THERE.
One More Thing
NASTY: Fetish Fights Back will donate 20% of the royalties from the finished product to Planned Parenthood. We believe erotica, sexuality, and sensuality are about having choices, and we're willing to put our money where our mouth is.
REALLY. NOW. PRIZE TIME.
Just for readers of Cori's blog, from now until the end of our Kickstarter (December 31, 2016, 11:59 PM EST), if you pledge any amount to our campaign, we'll send you a SPECIAL PRIZE.
(No. Not this guy. There aren't enough of him to go around to all of our backers even if he's into that.)
We'll send you an extra story from NASTY: Fetish Fights Back to ring in the New Year in an extra-steamy way.
After you pledge, drop us a message on Kickstarter or email us at anna@thenastymag.com and we'll send your reward in early January! Choose from epub/mobi/pdf.
Thanks to Cori for letting me visit!
Stay NASTY!
Anna Yeatts
Anna Yeatts loves all things dark, delicious, and generally inappropriate for children. Her short fiction has appeared in Orson Scott Card's Intergalactic Medicine Show, Daily Science Fiction, and Mslexia among other venues. In addition to NASTY, she publishes Flash Fiction Online. If her house catches on fire, she'll be saving her toy collection (after her children and geriatric dogs, of course). Follow her on Facebook, Twitter @AnnaYeatts, or annayeatts.com.