Sandra Gore is stopping by today as part of her Bewitching Tours to promote her book, Isis Erotica. I haven't had a chance to read it just yet, but I definitely find the cover intriguing 😉
~*~
Book Description:
Would you dare step back in time to find Mr. Right?
A frustrated Las Vegas party girl discovers a Red Mirror in an antique mall and succumbs to the lure of the bold-eyed woman in the glass. "Come," the Mirror beckons, "taste of a life more sensuous than any dream."
The exotic life that tempts is one she once lived as Isis, priestess in the mystic cult of Hathor, Egyptian Goddess of Love. "I have secrets," her aura teased. "Wonderful secrets that only I can share."
On the banks of the ancient Nile, she meets River God of bronzed flesh and snowy linen. "You shall fly to the stars with my tongue on your lotus," he breathes in her ear. Alas, the gods have other plans. Isis finds herself first on a quest for the all-powerful Emerald Tablet, and then without warning, back in Las Vegas.
Uncertain and unnerved, Isis joins best friend Barb for a surprise encounter that compels her to go back through the Red Mirror in search of River God. But a desert hunt goes all wrong, and Isis the sex slave lands in the grip of the Persian General's thi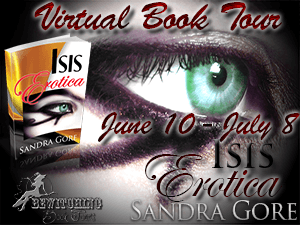 ck fingers. "If you please me," he proposes, "you will belong to me and me alone, but only as long as I am pleased." One fateful night, a ride on a comet shows Isis the dark side of love and sets the price she must pay for freedom.
Four hot men crossing back and forth through time. They all want her. Who will have her? Does she have to choose?
Who says a woman should have only one man?
Who says there's a Mr. Right?
One man is not enough for Isis. One life is not enough.
She has the Power – The Hathor Power.
From the Author:
Why three versions of the same Isis story?
Let's call it an exercise to see if I could take on 3 different voices and write in 3 different styles. And then let's blame it on First Readers' feedback.
I wrote Isis Erotica in response to input from readers who shared that they photocopied the sexy parts of The Red Mirror (formerly Isis) before passing on the book. So why not put together a boiled-down version of the Isis story, cutting out a couple of characters and leaving the adventure and action while pumping up the sex? I like to call this my X-rated version.
Next, in response to my first readers who were uncomfortable with the explicit sex of the original version now titled The Red Mirror, I wrote Isis Beach Read  as a zippier version, cutting characters, simplifying Egyptian names and sanitizing the sex. The sex scenes are still there, but more is left to the reader's imagination. I call this version PG-16. Although I must admit, I would have read this book at 13 and not blushed at all.
About the Author:
Born with wanderlust, forever living in a fantasy world, Sandra Gore escaped the prairies of Kansas and followed the yellow brick road on a 25 year odyssey that took her to Europe, Africa, Latin America and the Middle East.
Starting with a one-way ticket to Iceland, Sandra returned with a Viking husband, an art degree and speaking five languages. She and her husband have two adult children and divide their time between a California beach house and a Las Vegas condo.
http://sandragore.com/
https://twitter.com/GoreNovels
https://www.facebook.com/GoreNovels
Sandra's Magazine  http://www.sandraoffthestrip.com/
Sandra Political Activist on Twitter  https://twitter.com/LVview
Enter to Win: