It is out and it is freaking beautiful!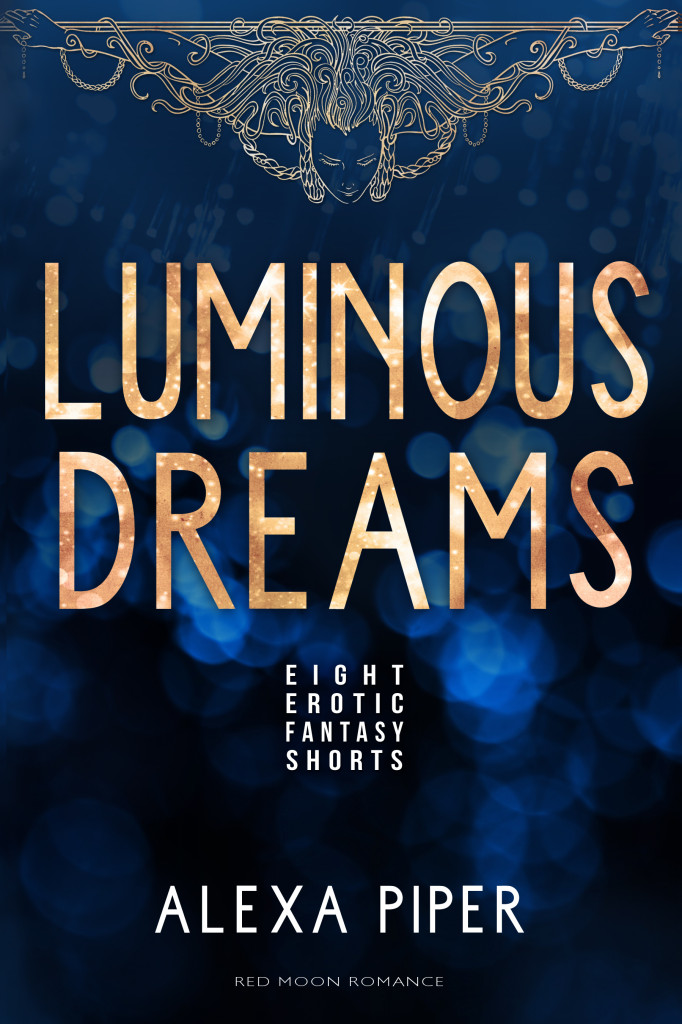 Relax, close your eyes… and dream.
Eight tales, eight sensual dreams of enchantment, wanderlust and lovers' longings, of searching and finding; these dreams tell of birds of fire, curses that lie like bridges between night and day, and hunger for sweet seduction.
Eight never before published stories by Alexa Piper:
Phoenix and Styx
Flesh and myth tumble together, strangers in a world too small to hold them. Can they find balance long enough to seek their pleasure, or are they destined to combust?
Fortune's Song
Eliron is a recluse with a bad reputation, Aurora is a fortune teller's daughter turned nomad. Together, they sing harmonies to make harps blush, but their real song, their true song, may just be something darker and deeper.
Candy and the Witch
When Gretel finds a candy trail in the woods leading to succulent desires, she doesn't walk blindly into its trap—she lays one of her own.
The Night Train: Story of a Passage
As Taite boards the night train, she expects a less-than-satisfactory nap, not a steamy encounter with mystical strangers and a choice that could change the very course of her life.
I Will Feed You Honey
An ancient muse trapped within a Tarot card, a dancer trapped just outside the bright lights of center stage—they could be each other's salvation . . . or prison. But before that question is answered, Marina will have to figure out if the sexy dreams she's been having of a masked man are fantasy inspired by the Tarot card that manages to slip between her sheets . . . or real.
The Acorn Princess
Alice enters the woods to get away from the world, what she discovers awakens earthy desires she didn't even know dwelled within her.
Nocturnal Conquests
Ana never noticed them, but they've been watching her, waiting, hungering for her. When the three of them finally meet the ending is inevitable—consume and be consumed—or is it? 
A Raven by Day
Sofia knows sunlight only through a raven's eyes and hasn't much use for her nocturnal, human body until she meets Hayden, whose hands work her flesh with the same awe and reverence as his metal and clockwork creations. But can Hayden keep the raven in his heart and the woman in his bed, or will they both fly away?
ALEXA PIPER enjoys writing, romance, and the paranormal. This said, becoming a paranormal romance writer seemed perfectly reasonable, but for Alexa, it is more than that; it's fun. Alexa's work has appeared in the Red Moon Romance anthology Demons, Imps, and Incubi and The Naughty List. Luminous Dreams is Alexa's first collection, and she hopes her readers will have as much fun reading it as she had writing it. Check out Alexa's online home (alexapiper.com) for all things related to her writing and be sure to follow her on Twitter @prowlingpiper.
AVAILABLE NOW
World Weaver Press
Amazon
All Romance eBooks
And add it to your shelves on Goodreads