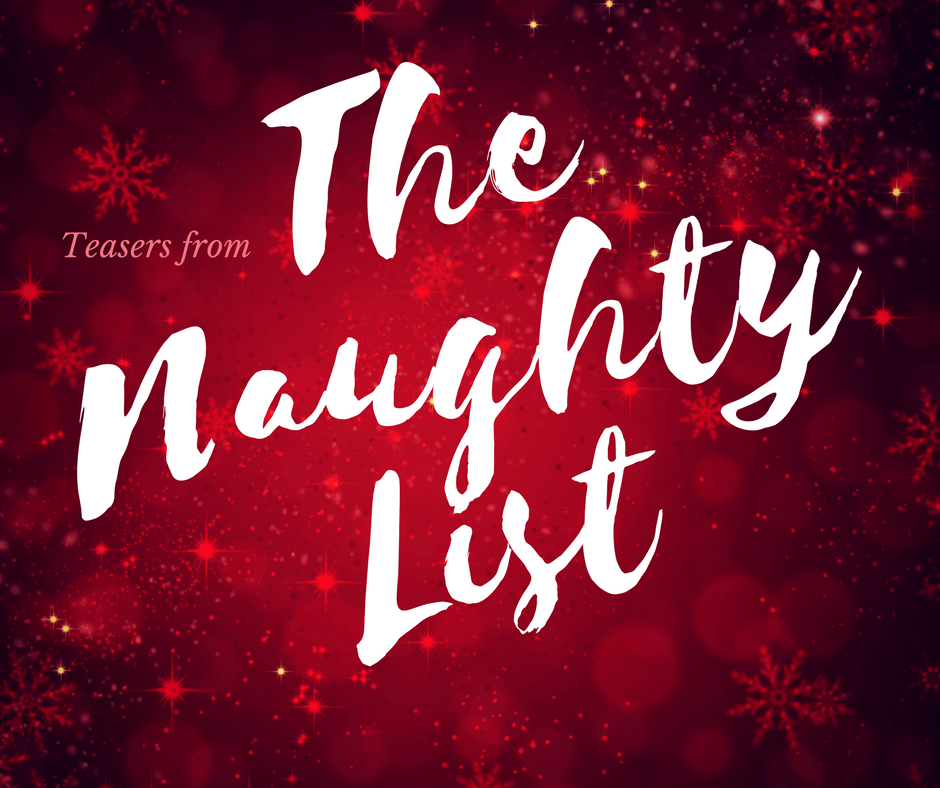 The Naughty List came out over two years ago.
Two years!
I know, how crazy is that? Honestly, it breaks my brain a little bit to think about it, in fact I triple-checked to make sure that I was right.
Wow.
Anyway, 'tis the season so over the next few days I'm going to share some excerpts from the stories in The Naughty List with you. I hope you enjoy them 🙂

My Midnight Cowboy
Pumpkin Spice
If chocolate is the way to a man's heart, then pastry chef Lucy Baker has the recipe for success. But will her culinary skills melt the most-hard hearted bachelor in Wyoming? A chance encounter on a New Year's Eve flight leaves two strangers to discover unbound pleasure and a hunger for more sexual discovery.
Excerpt:
I watched Scott meticulously fold back a portion of the paper liner wrapped around his hamburger. He sized up the juicy double patty dripping with cheese, lettuce, tomatoes and grilled onions. He approached the burger with precision. His first bite made my mouth water.
Rachel gently tapped my foot under the table with her boot. I could practically read her mind. Yeah, if he takes this much time eating a hamburger . . . good hell almighty.
Suddenly, a loud, slurping sound from a straw desperately in need of more soda redirected my attention onto Ben.
Ben jabbed the bottom of his cup with his straw. Colorful confetti and "Happy New Year" was printed on the plastic tumbler. Anytime he shook his drink, it looked like Times Square at midnight. Of course, Ben didn't seem to notice. He tightened his lips around the straw and his face pulled together. Despite his chiseled good looks, he suddenly resembled a pucker fish.
Lovely.
He cocked his head toward me. "Are there free refills?"
I nodded and looked back at Scott. He was mid-way through his burger. A napkin was at the ready, but he rarely reached it for it.
Ben pushed back from the table and left a pile of crumpled napkins in his wake.
Amazing. It's like watching Greg Brady and Zack Morris.
"Anyone need some more soda?" He stood and shook his cup. Ice rattled. "Or ice. Anyone need soda or ice?" A silly grin crossed his face and I smiled. The guy's an idiot, but . . . Ben placed his boot on the edge of his chair and his jeans outlined his best features. He fished an ice cube out with his mouth and tongued the hollow center until it dangled from his lip.
Oh, my.
He wore the cube like a tongue ring and wiggled it back and forth in rapid succession. Suddenly, I found myself oddly attentive to his gyrating tongue.
Hmmm. Rachel nearly side-swiped me with her foot. I pushed it away and surveyed the two cowboys in front of us. Decisions, decisions.

Pumpkin Spice's debut novel — Scarlett Hood & the Hunter — was an Editor's Pick and nominated by readers as a finalist in the 2015 Third Annual Evernight Readers' Choice Awards.
Visit her website: http://www.marybilliter.com/