Last week I posted some sneak peeks at the books from the INKomplete series by Mara Malins. Today I'm going to conclude my 'sneak peek series' with an excerpt from the final book in the series — INKonsolable.
INKonsolable is Blakey's story. Blakey is the gruff ole teddy bear patriarch of the tattoo studio. He's already had his love story, but the love of his life died five years before this story started. Can he find love and happiness again, or is that chapter of his life done forever?
Mara blogged about this for the Pen and Kink blog and you can read it here.
Or keep scrolling to read an excerpt from the book 🙂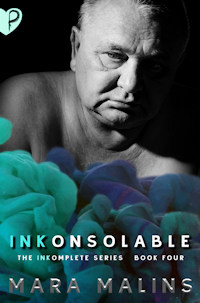 It's been five years since Blakey's beautiful wife Elizabeth died and his grief is just as sharp today as it was back then. But now he's desperately lonely too. As he becomes closer to his friend Aisleyne, Blakey fights it with everything he has. How could he even think about moving on? No, friendship is all he has to offer. That will have to be enough.
In this excerpt Blakey is at Indecency, a kinky club that the staff at the tattoo studio frequent every Friday. Only this Friday isn't just any Friday, this Friday is the five year anniversary of Blakey's wife's death…
Over the heads of the dancing crowd, Blakey saw Aisleyne over by the bar. She was sipping a whiskey and water, surveying the room over the rim of the glass. In her early forties, she could still pass for a woman in her thirties. Her figure was as lithe and dancer-like as it'd probably been ten years ago. She was dressed in a pair of fitted jeans and a sheer blouse—so sheer that he could see her lacy black bra beneath. The sight made his mouth dry.

Matt followed the direction of his gaze. "Aren't you going to go and talk to her?"

"Maybe later." For some reason, the thought of going over to talk to her like he usually did made him anxious. Even through the flashing lights of the club, she looked lovely. Her long dark hair had been brushed into a midnight shimmer and it hung down to her slim waist. She was tapping the pointed toe of her boot in time to the thumping music.

Matt's brow furrowed. "You always go and talk to her. What's different?"

"Nothing," Blakey answered, not entirely truthfully. Lately, he'd felt acutely aware that he was stealing Aisleyne's time when he had nothing to offer in return. A fat, unfit widower was hardly a catch, and even if it was, he wasn't ready to be on the hook. He wasn't sure he ever would be. He didn't want another woman, even one as lovely as Ais; he wanted Elizabeth. Nobody else would do and leading her on just didn't seem fair. Ais was a good woman, she didn't deserve it.

Not that she was interested in anything other friendship, he thought, his eyes returning to where she was standing.

Their two times together had been as impersonal for her as they had for him. No names had been uttered, no endearments voiced. In fact, he suspected she'd been thinking of someone else—she certainly wouldn't meet his eyes as he thrust inside her. He didn't mind; they weren't kids anymore. They understood that sex didn't always lead to weddings and babies. She could take whatever she needed from him.

Matt was studying Blakey's face again. "Something's going on with you today. What is it, Blakey?"

Emily, obviously sensing that Blakey wouldn't open up whilst she was at the table, grabbed her coke and headed towards Phee, Nathan, Joe, and Pete, who were all dancing. Blakey watched her go, trying to form the correct words in his head. He opened his mouth to answer but he faltered when he caught Aisleyne's gaze. As soon as their eyes locked, she smiled. It was an intimate smile, as if they were the only two people in the room. He knew that smile; are we on tonight? It asked.

His stomach gave a sour flip. She waved at him and he tipped his glass at her in greeting… but then he turned his back on her.
** Reserve Your Copy Now **