Yesterday I blogged a bit about the second book in the INKomplete Series. Today I am excited to talk about the third. INKurable.
I won't lie. I wasn't always super pumped about this book. When Mara first told me about it I was like, "Uh… you want to write a romance about a woman with breast cancer?" Even while understanding that being sick didn't mean one couldn't have a romantic life I still had some reservations about the concept. I mean, cancer is heavy shit, man. And romance is supposed to be an escape. But then… maybe the character needed an escape too and… "Ah, what the hell?" I thought. I'd give the story a shot.
I'm so glad I did. This book is awesome. Mara is very deliberate in the way she addresses the cancer (More about that here in this blog post she wrote called, "The Hardest Story I've Ever Written"), the romance was the journey you would hope for and the characters are great. In fact, Pete is my favourite of all the love interests.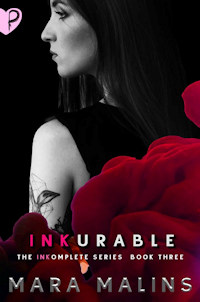 Phee has breast cancer. But as heart-breaking as it is, she's determined to be strong so her friends don't worry. They're a family so if she hurts, they hurt, and she can't allow that. But when lines start to blur between her and her handsome surgeon, trying to hold everything together suddenly feels like the real fight.
Dun dun dun!
Check out this excerpt of an encounter between Phee and Pete:
Surprised, Phee turned to him. A dull heat burned through her body at his words, focusing on the point between her legs. Those words, coming from her surgeon's mouth… well, it was arousing. She took another sip of champagne to hide her reaction. "Spider gags? Posture collars? You sound like you've been researching, Dr. Witheford."

He laughed. It was a throaty, masculine sound that reverberated deep in his chest. She automatically smiled in response. "Naturally. I needed to know what I was getting myself into when I agreed to meet you."

"And what's your verdict?"

He met her eyes evenly, his own dark with promise. "Nothing I can't handle."

She blinked, surprised. "Why would you want to?"

"After what I saw? Why would I not want to?"

She couldn't take the heat in his eyes. It was too much. There was something other than sex there and she couldn't figure out what it was. It made her nervous. Vulnerable. She didn't like to feel that way so she looked away. "Well, do you see anyone who takes your fancy here?"

"Just one person."

"Yeah? Who've you spotted?" Phee asked and scanned the room. Something hot was boiling in her stomach that she refused to think about. Some woman was going to have kinky sex with her surgeon, and just like that night a week ago, it made her angry.
"Beautiful girl. Red hair. Has the potential to teach me a few things." He spoke softly, his lips like feathers against her ear.

She whipped her head around to stare at him, gasping when she saw how close he was to her. Her heart hammered in her chest. "What? We can't…"

"What are you here for, Phee?"

"To have sex. One last time before…"

As her voice drifted away, Pete nodded thoughtfully. "And why am I here?"
** Reserve Your Copy Now **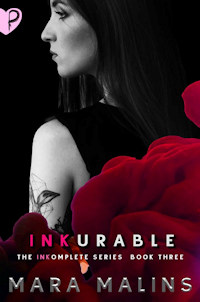 Oh! Oh! Edited to add:
I almost forgot! If you pre-order one of Mara's books you can enter to win this necklace: