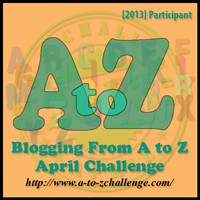 V is for the victory I can feel coming (winning this blogging challenge x2 + April Poem a Day + Camp NaNoWriMo + remaining sane). Though I suppose you could argue it will only be a partial victory since I'm combining two letters into one post today. Whatever. I'll take it.
I also finished the first draft of Merry XXXmas from the submissive's point of view. Yay! I'm going to let that rest a little bit and then get to work revising it. I'm not sure if I'm going to post it here right away or look for another home for it first in order to start building some traffic to this blog. We'll see, I suppose.
Anyway, about werewolves. I have an idea peculating for a series of stories involving some of the sexiest werewolves ever. It's still just a nugget of an idea I need to develop, but I think it will be fun when I do. I mean, who doesn't like werewolves?