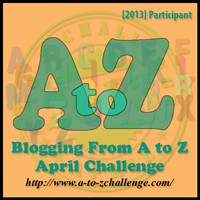 Yeah, I know, that's kind of a cop out ending but dudes, I am tired. It's been a long freaking month and I'm so glad that it's over. I would have quit this challenge halfway through if I weren't so stubborn, just to get a little extra time to work on writing.
But I am stubborn so I saw it through, and I'm glad I did.
Now, however, I'm sure you won't mind if I sneak off for a nap and then I'll get some more stories written and posted.
I have a whole collection. A publisher had expressed some interest in printing them as a book but communication has gone quiet on their end so maybe, now that I'll have some more time on my hands (visiting blogs for this challenge took up a lot of it LoL) I'll shoot them another note to see if they are going to make a move on them soon and if not I'll share them here.
Keep your fingers crossed… well, personally I'd like the book lol but you might want that deal to fall through. Either way *crosses fingers*