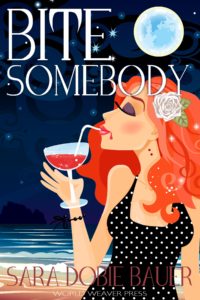 I've invited the vivacious Sara Dobie Bauer to my blog today to help celebrate the release of her book Bite Somebody.
I've got to tell you, there is a lot of buzz around this book. Like a lot. I work at her publisher, World Weaver Press and Sara's editor can not say enough good things about this book. Can. Not. I've never seen her so pumped about anything.
So…that's a thing 😉
The Bite Somebody Soundtrack
Sara Dobie Bauer
It's funny; when Cori asked me to build a soundtrack for Bite Somebody, I realized the book sort of built one for me …
"Do you want to be perfect?"
That's what Danny asked Celia the night he turned her into a vampire. Three months have passed since, and immortality didn't transform her into the glamorous, sexy vamp she was expecting but left her awkward, lonely, and working at a Florida gas station. On top of that, she's a giant screw-up of an immortal, because the only blood she consumes is from illegally obtained hospital blood bags.
What she needs to do—according to her moody vampire friend Imogene—is just … bite somebody. But Celia wants her first bite to be special, and she has yet to meet Mr. Right Bite. Then, Ian moves in next door. His scent creeps through her kitchen wall and makes her nose tingle, but insecure Celia can't bring herself to meet the guy face-to-face.
When she finally gets a look at Ian's cyclist physique, curly black hair, and sun-kissed skin, other parts of Celia tingle, as well. Could he be the first bite she's been waiting for to complete her vampire transformation? His kisses certainly have a way of making her fangs throb.
Just when Celia starts to believe Ian may be the fairy tale ending she always wanted, her jerk of a creator returns to town, which spells nothing but trouble for everyone involved.
Although on a normal day, I'm more of a grunge girl, that side of me didn't feel right for Bite Somebody, which is all about the 80s and the beach. Instead of my usual list of suspects, you'll find groups like The Cure, Queen, and Dave Matthews Band. Feel free to breakdance like Imogene or hippie sway like Ian. Either way, enjoy the official Bite Somebody soundtrack!
1. "Pretty Woman" – Roy Orbison

Women can be born pretty, but you got to feel pretty to really own it, which is something Celia takes time to learn in Bite Somebody. Not only is this the theme song for her favorite film (of the same name), but also it's a great little number for strutting around the house … or down the beach.
2. "Bad Reputation" – Joan Jett

This is Imogene's theme song. She has a Joan Jett look, and she's a bad ass who really doesn't care what anyone thinks. I've been told I based Imogene on myself, but that's not entirely true. I do care what people think, sometimes too much. I'd do well to take some advice from my boot-wearing bad girl and let people love me for who I am—cranky, crazy, or not.
3. "Jimi Thing" – Dave Matthews Band

This one's for Ian, a man who loves jam bands and weed. I grew up listening to DMB and, okay, there may have been some illegal substances involved. (I was just doing research.) I would be remiss to not acknowledge Dave as well as Ian's ability to look beyond the bad and see the good, the happy, in every situation, which I hope rubs off on you, too.
4. "Once in a Lifetime" – Talking Heads

Have you ever asked yourself, "How did I get here?" Celia asks herself that a lot, but we all do, and not always in a bad way. Sure, if you're, like, swimming with sharks, this is a valid question, but when you're in a healthy romantic relationship, the question is the same. How could I be so blessed to be here, right now, with this person?
5. "Let's Get It On" – Marvin Gaye

Let's face it: Ian Hasselback is a sexy beast. Well, a nerdy, sexy beast. He makes my imaginary fangs go "boing," and what better song than this to get things going right? We've all met that person who makes us feel tingly, and although Celia has trouble learning to relax in the bedroom, once she does, there's no stopping her.
6. "Everything's Gonna Be All Right" – Bob Marley

There is something so soothing about reggae, especially when it's Bob. There are a lot of crazy things that go down in Bite Somebody. A moment of peace is deserved. Part of what I love so much about Ian and Celia is their ability to soothe each other. That's what real love is: taking care of someone other than yourself and making them believe, no matter the "Danny Situation," that everything will be okay.
7. "Let's Dance" – David Bowie

My brother sings this song for karaoke, and why wouldn't you? It's freakin' Bowie, the man who defined hot 80s androgyny. Dancing heals a lot of wounds. Think of it as dancing a demon off your back, which might be why Imogene dances with such fervor.
8. "Sleep" – Phish

Ian taught Imogene how to enjoy his hippie music, hence the inclusion of one of the most soothing songs EVER. This is the kind of song you listen to on a beach, the waves crashing in and out, before wandering up a well-worn path and tucking yourself into your sand-strewn bed.
9. "Lovesong" – The Cure

Yeah, so Celia doesn't slow dance. Ian has no rhythm. Neither tendency is required for this 80s gem that just makes you want to sway. Even Imogene would get down to The Cure, although she'd bust out some breakdance moves and put everyone else to shame. Despite the melancholy beats, this song is a reminder that the people you love can bring you back to life—even if you're undead.
10. "Someone to Love" – Queen

No man can sing like Freddie Mercury, and to have Freddie singing about love is right up there with A-positive blood. Celia wanted someone to love, and she found him. I guess that's what we're all looking for, and trust me: it's worth the wait. Keep searching; your Ian is out there, probably looking for you, too.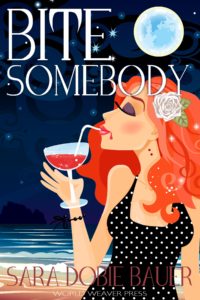 Bite Somebody is available online:
---
Sara Dobie Bauer is a writer, model, and mental health advocate with a creative writing degree from Ohio University. She spends most days at home in her pajamas as a book nerd and sex-pert for SheKnows.com. Her short story, "Don't Ball the Boss," was nominated for the 2015 Pushcart Prize, inspired by her shameless crush on Benedict Cumberbatch. She lives with her hottie husband and two precious pups in Northeast Ohio, although she would really like to live in a Tim Burton film. She is also the author of Wolf Among Sheep, Life without Harry, andForever Dead. Read more at SaraDobieBauer.com or find her on Twitter @SaraDobie.