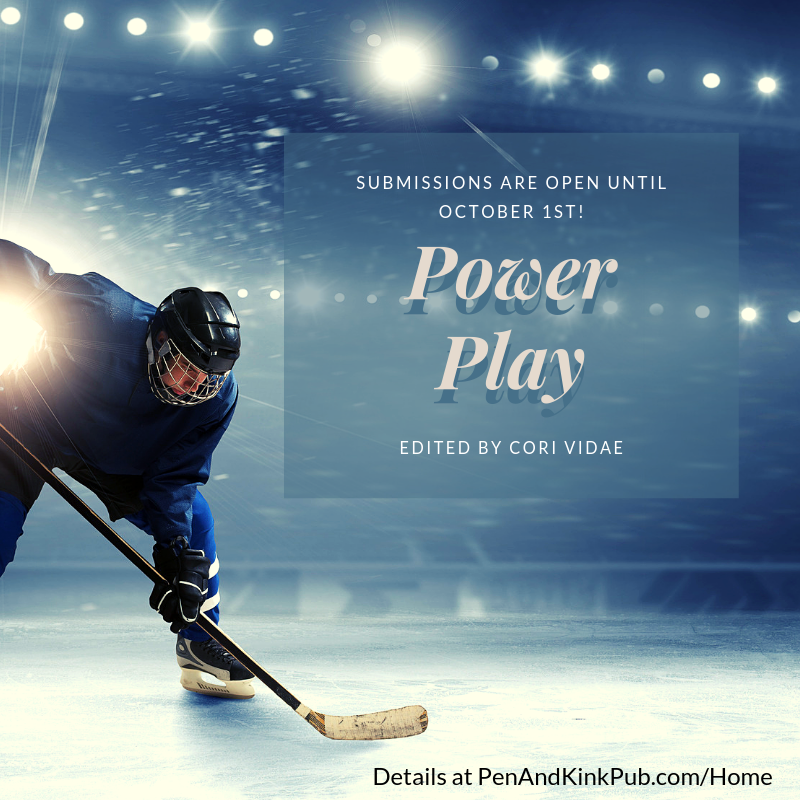 Call for Submissions: Power Play
Power Play is all about the action and competition of hockey combined with the drama and emotion of romance.
I'm looking for consensual power exchange romance stories that revolve around the rink. Stories like the superstar who sobers up one day to find himself stuck coaching a peewee team and falling for the dominating mother of one of his players. The trainer with creative uses for sports bandages who is looking for her perfect match. The coaches of two rival teams who discover the spark of their competition continues even outside the arena. The goalie who loves being tied to her net and finds her no-strings arrangement with the opposing team's forward growing into something more… I want all these and more.
You needn't be a hockey expert to write for this anthology but do keep in mind that women play hockey too, ice is cold and skate blades are sharp.
Open to stories at every heat level, and any sort of pairing (or more-ing) that you can imagine. Stories must have a real conflict and tension with a HEA or HFN ending.
All hockey teams and players must be fictional – please don't use any real teams or players in your stories.
The details:
• Minimum word count 2,500. No maximum.
• Reprints accepted but not preferred. When submitting a reprint include information about its original publication in your submission email.
• Open to all gender pairings and multiple partners
• Simultaneous submissions = No
• Multiple submissions = Okay
• Some sort of consensual kink is required. Preferably one involving a power differential.
Payment: $20 USD and a paperback copy of the anthology in exchange for the non-exclusive right to include the story in both the print and electronic versions of the anthology.
Open submission period: Until October 1, 2019
Expected publication date: April 2020
To submit: Please submit a .doc or .rtf in something approximating standard manuscript format to corividae@gmail.com Subject line: [Power Play] STORY TITLE
Failure to use the correct subject line may result in your story being misfiled.
Confirmation of receipt will not be automated and so may take up to three days.
---
FAQ
As questions come up I will post them and the answers here so that everyone has all the same information 🙂
Q: Do both MCs have to play hockey or be connected to hockey in some way?
A: No. Only one of your love interest characters needs to be connected to the game in some way. That connection should be central to the story though, not just an interesting background note.
*
Q: Can the kink be light (for example, just blindfolding someone and tying them up)?
A: Absolutely.
*
Q: What do you mean by 'power exchange' or 'power differential'?
A: By 'power exchange' I mean where one person has more power than the other. For example, if someone has tied someone else up, the person who is tied up has less power than the person who is not. In your story, the power differential might only take place during a sex scene, such as with my example, or it might be a lifestyle choice such as with people who chose to live in a 24/7 D/s relationship (where one person is the Dominant and one submissive). I'm pretty flexible in regard to how the power exchange happens or how profound it is, but it is absolutely necessary that it be consensual.