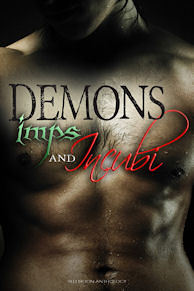 I was pretty excited when my story, "Circles Within Circles" was accepted for inclusion in the Demons, Imps and Incbui anthology a while back. I'm still excited to be included in that anthology, but now that it's been out for a couple years I want to give people a way to read my story without buying the whole anthology.
Thus, I'm excited to announce that today I've released Circles Within Circles as a standalone story!
Mary never believed the rumors about her mother being a witch, but when a mirror inexplicably connects her to her twin brother Michael, stationed half a world away on a WWI battlefield, she reconsiders. To protect him from a battle he has reason to believe will be his last, Mary sets out to uncover any magic left on her isolated farm.

The incubus Cairn wakes from centuries of banishment to a cramped basement and a sensual, albeit surprised, woman. Perhaps she didn't intend to summon him, but since she did, perhaps he could help… for a price.
Available now
But wait! There's more!
I've priced this story at $0.99 because I feel like that's a fair price for a short story but I'm not planning on keeping the profits from sales for myself. Instead, all the proceeds from this story will be used to fund microloans via Kiva to help women all across the world build better lives for themselves. I decided to use Kiva because as each loan is paid back I'll be able to use that money to make another loan. And so, in that way, each dollar is used over and over and over again.
So if you pick up a copy of Circles Within Circles not only do you get an awesome story, but you're helping women help themselves.
It's win/win!