The final installment of this magical series is out today! It's been a heck of a ride to get here, and I'm extremely proud that we have. Working with Sara, Em, Wendy and Elesha to create this series and get it out into the hands of readers has been a unique and complicated journey, but we did it. Because we're awesome.
So is the book. Check it out: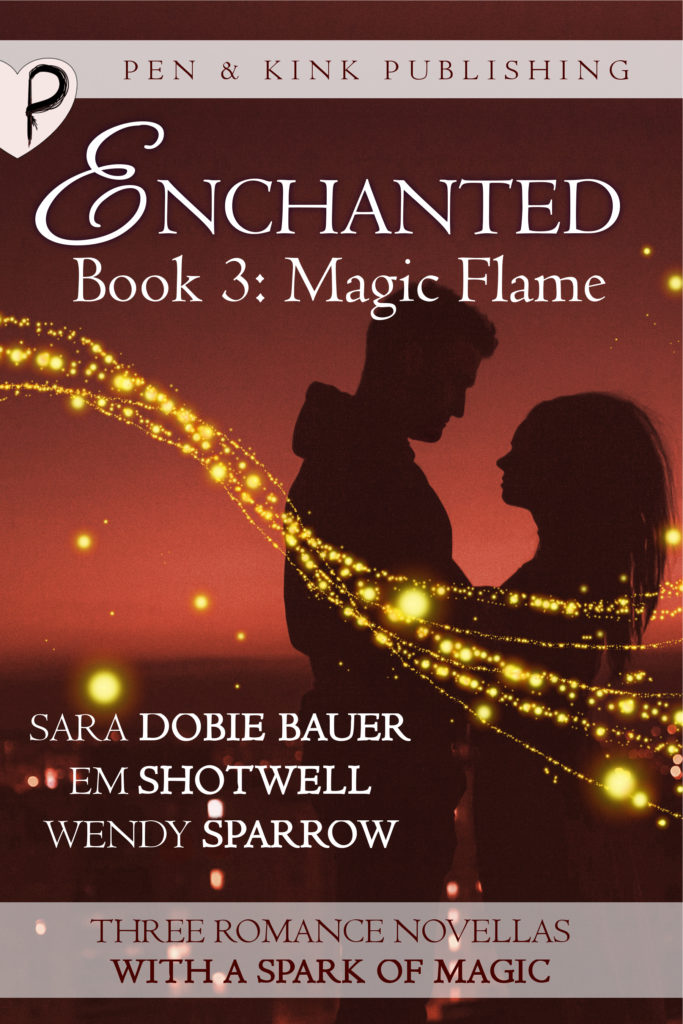 Available Now!
The third and final installment of the Enchanted series — a trio of trilogies by three amazing romance writers. These stories all have two things in common: magic and romance!

"All's Fair in Love, War and Demigods" by Wendy Sparrow:
Allie Mason isn't what Donovan Rowe was expecting from a demigoddess of love. Touchy-feely she is not. But just because she is able to drop him to the mat but doesn't mean he's right for her–she needs someone less battle-scarred and jaded. However, Allie has other ideas. While a matching site may have set them up, Allie is sure demigod of war Donovan is who she wants. He's not getting away without a fight and all's fair in love, war, and claiming your demigod.

"These Resting Bones" by Em Shotwell:
New Orleans college student Bradley Murphey works hard to blend into the background, which is easier said than done when you are descended from a cursed line of witches. After helping her sisters cast spells (with questionable results) Bradley would be happy to never work magic again, but when she accidentally kills a man she has no choice but to turn to her hottie best friend and her family's cursed magic for help. But every spell has a price, and sometimes it is best to let dead things rot…

"Destiny's Dark Light Part III" by Sara Dobie Bauer:
The love story of Cyan and Liam comes to its enchanted end. With the identity of the dreaded dark witch revealed, both Cyan and Liam must find ways to deal with the ramifications. War approaches at an ever-increasing pace. Dark witches and white will soon battle on the streets of Charleston. Still, Cyan remains focused on the man she's come to love. She is destined to protect Liam, but how can she keep him safe and save the world when her powers are barely under control?